About
---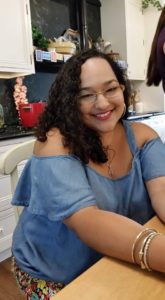 I am a self-taught contemporary artist. My work has been seen in the local media; numerous solo and group exhibitions; and can be found in private art collections internationally.
Much like my personality, my body of work is an eclectic mash of various styles. Whether it be modern folk art, expressionism, abstract, mixed media, fluid, or anything in between, I experience the most pleasure in the creation processes itself. In a world of limitless possibilities, it is fun to discover the endless options for creating something beautiful.
My work focuses on evoking a feeling of comfortable familiarity: iconography, pop culture, spirituality, warmth, nostalgia, a touch of whimsy, and humor. It also becomes an evolving thing, which remains uncaged and continuously grows alongside me.
My greatest reward comes in being able to use these creative energies as a vehicle to spread vibrancy, joy, comfort, and love to all I come across.