About Me
---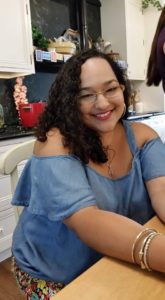 I am a self-taught contemporary artist. My work has been seen in the local media; numerous solo and group exhibitions; and can be found in private art collections internationally. From folk art–to abstract–to fluid, my body of work is an ever flowing exploration of creation.
The process of painting folk art begins far before brush ever touches canvas. I select subject matter I know I can put my whole heart into. Each painting is meticulously planned down to the last detail. I find this methodical process caters to my analytical side. I enjoy the mental stimulation of making every element perfect.
Abstract falls on the opposite end of the spectrum. Without the constraints of lines and details, I am given the freedom to deeper explore color, movement, composition, and the happy effects of spontaneity. I approach abstract in a more fluid, go-with-the flow manner. Specifically, fluid painting challenges me to relinquish control of every minute detail. It sparks my spiritual, intuitive side. I consider it a method of prayerful meditation and it brings me much peace.
With every new art piece, I attempt to learn and experience growth. I never confine my work to just one thing and find joy in discovering the breadth and infinite possibilities for human expression.