About
---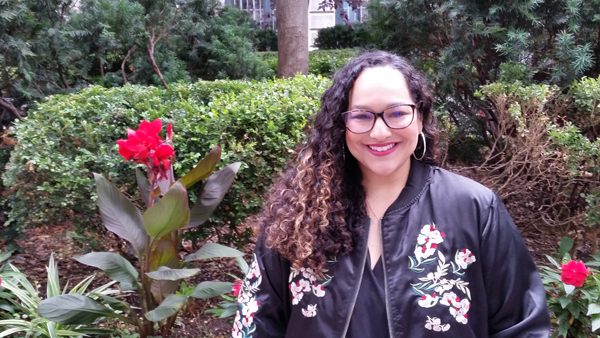 Born, raised, and living in San Antonio, Veronica is a self-taught contemporary artist who has been painting and selling her work since 2007. She loves her hometown's colorful expressions and tries to evoke that bold joyful vibe in every piece she makes.
Much like her personality, her body of work is an eclectic mash of styles. She likes to explore color via acrylics, oil pastels, fluid paints, and other mediums. Whether it be contemporary folk art, fluid expressionism, mixed media, or anything in between, she experiences the most pleasure in the creation process itself. In a world of limitless possibilities, she aims to have fun in discovering the endless options for creating something beautiful.
In her series of fluid paintings, the unique composition of placement and color are at the hand of the artist, but the final composition emerges from a combination of manipulation, natural forces, reactions between the mix of materials, and a little spiritual mojo. Some paintings are tilted or shaken during various stages of the drying process and require numerous built up layers of paint, while others are poured organically in one session and require little manipulation at all. The process, then, becomes a meditative journey in faithfully following her own instincts, while trusting the perfection of nature to polish out the details.
In her contemporary folk art series, her work focuses on evoking a feeling of comfortable familiarity: iconography, pop culture, spirituality, warmth, nostalgia, a touch of whimsy, and humor. Her subject matter is usually plucked from memories of joyful experiences.
While they may all arrive at their destinations differently, the common thread between her art is a focused intent to infuse joyful love energy into every creation. She creates from a boundless vision and embraces that her work becomes an ever-evolving thing, which grows naturally alongside her. She has much appreciation for being able to use her creative energies as a vehicle to spread vibrancy, happiness, comfort, and love to all she comes across.
In her personal realm, she is a happy wife to her supportive and loving husband of 13 years; a doting doggie mom; and loves to write prose and poetry.

Veronica's work has been seen in the local media; numerous solo and group exhibitions; restaurants, galleries and shops throughout San Antonio; and can be found in corporate and personal art collections internationally. She has successfully worked with homeowners and designers on custom large scale pieces, enjoys collaborating on new projects, and accepts commissions.